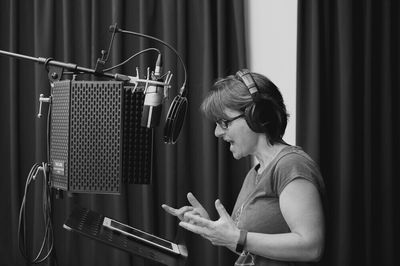 Rachel Simon
Visual Communication
VOICE ARTIST, NARRATOR & VIDEO PRESENTER | WELLINGTON
Kia ora, I'm Rachel Simon, a New Zealand voice artist, narrator and video presenter based in Wellington, Aotearoa, NZ.
If you're looking to book voice over for an e-learning course, or a social promo, or explainer video, the prospect of dealing with a voice agency and booking a recording studio and sound engineer can be daunting and expensive.
I'm changing all that to make the whole process much easier.
I have my own recording studio and can record remotely and provide sound engineering. I can provide your voice over files anywhere in the world, and quickly too - it's that easy!
This means significant reduction in costs, in your time - and your stress levels. I am experienced in corporate and e-learning voice over and video presenting and I also enjoy playing with character roles and accents.
"Rachel's diversity of character and voice are her strengths. She intuitively knows how to connect and engage with an audience. I'm always impressed by Rachel's range and abilities. She's personable, thoughtful, professional and open to giving new approaches a go. Definitely our number one choice for presentation and voiceover projects."
-- KERRY DEANE, DIGITAL EXPERIENCE MANAGER, OPEN POLYTECHNIC
SKU: Voice artist, narrator and video presenter